History of The Kubert School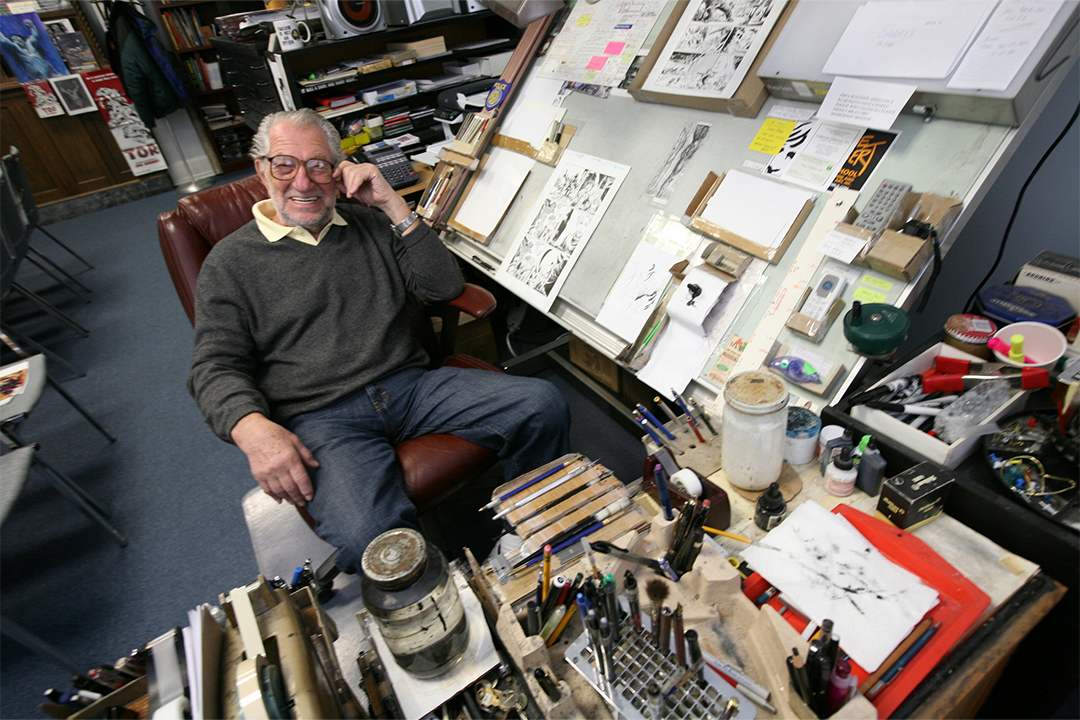 What was originally only an idea, based on a lifetime of experience in his selected profession, was implemented in the form of a school in 1976 by Joe Kubert and his wife, Muriel. In addition to his own experience, Joe sought knowledge from intimates in his profession, those who are and have been considered top-echelon practitioners.
The idea became an actuality with the first group of students who were accepted for the class beginning September, 1976.They numbered a total of 22.
In his many years as a cartoonist/illustrator, Joe Kubert also applied himself to almost every area of Cartoon-Graphics,as well as Cinematic Animation andComputer Generated Graphics. Mr. Kubertpassed away on August 12, 2012.
Muriel Kubert was a graduate of RiderCollege and held a B.S. degree in BusinessAdministration. She was the school vice-president. Mrs. Kubert passed away on July 8, 2008.
The school is the result of Joe Kubert's Perception of a recognized need. Having been asked by many young and aspiring artists the means by which one may attain a position in the profession of Cartoon-Graphics and Illustration, and realizing the lack of any formal schools educating in this specific area,THE KUBERT SCHOOL was born.
Although the institution began as a two-year school, the courses of study were extended to 3 years in September,1978. The school's attempt to indoctrinate professional acumen within a 2- year span was soon recognized as being too demanding. Presently the 3-year course requires that a student be at his drawingboard 8 to 10 hours a day.
Motivation and commitment are the prime factors for attending students to acquire the benefits the school offers.Ability (talent) alone does not answer the requisite for becoming a professional cartoonist.
As a result of the school's continued growth, additional physical space was needed. In 1983, the former Dover HighSchool building was acquired. The number of classrooms that the building contains is sufficient for expansion. In 2006, it was extensively renovated and is approved as Handicap Accessible.
The school continues to join with publishers, artists, and agencies in the fields of cartooning and illustration in its quest to determine contemporary needs and qualitative requirements deemed necessary by the profession. An Advisory Board composed of representatives of the field's elite publishers keeps the school abreast of current needs in the profession.
The instructors continue to be selected from the highest ranks of the profession. As a general rule, our instructors teach those courses in which they are involved professionally, on a day to day basis. The school may be compared to an atelier where an aspirant is selected for an internship program in which both master and intern learn from each other. The most effective measure by which the success of our programs may be evaluated is the high job placement ratio of our graduates, and the recognition afforded our graduates throughout the profession of Cartoon-Graphics, commercial illustration, animation and graphic novels.
Some of our most effective instructors are those students who have become professionals after graduation, and eventually return to teach on a part-time basis. Their ability to convey their knowledge is enhanced by their having experienced the same rigors and learning problems through which the present day students must pass. All of this helps in strengthening the Administration's and Instructors' dedication for every graduate student to be fully employed.
Take a closer look at what awaits you at
The Kubert School